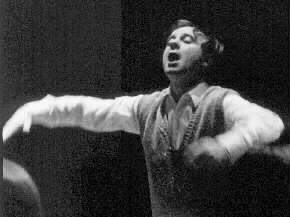 John Richard Ronsheim
1927-1997
The unexpected loss of John Ronsheim has been a blow to Antioch College and the village of Yellow Springs, Ohio, not to mention the members of his European Tour Choruses and of course, his family.
This biography/obituary is reprinted from the Yellow Springs News, by permision of Amy Harper, editor. We have also republished Harper's 1989 interview article, Teaching in a Stream of Consciousness.
John Richard Ronsheim
John Richard Ronsheim, who headed the Antioch College Music Department for many years, died unexpectedly about 11 p.m., Sunday, November 2nd, at Greene Memorial Hospital. He was 70 years of age.
He died of a heart attack, according to his wife, Eileen.
He was born in Cadiz, Ohio, the son of Isabel and Milton Ronsheim. He was interested in music as a child, and played a number of instruments, all by ear. At the age of 12 he started a little dance band, became interested in jazz and by the time he was 16, had a collection of 2,800 jazz records.
His musical tastes, however, were not confined to jazz. He loved all kinds of music for its power, he once said, to open minds and help develop sensibilities.
Mr. Ronsheim received a bachelor's and a master's degree in music composition from the New England Conservatory of Music. He studied for three years in Italy, from 1957-60, under composer Luigi Dallapiccola and also attended the International Feruencurse fur Neue Musik in Darmstadt, Germany. He also did doctoral work at the University of Iowa.
Mr. Ronsheim's first teaching job was at Newton Junior College in Massachusetts, from 1965 to 1966, followed by a year on the faculty of the New England Conservatory of Music. His career at Antioch began in 1967, with a Danforth Foundation grant, which brought him to the college as a teaching associate for a year. He was so popular with students, he was asked to stay and continued to teach as an assistant professor of music at Antioch for the next 23 years, until his retirement as a Professor Emeritus in 1990.
For many years Mr. Ronsheim was the only member of the music department. He was instrumental during his tenure as its director in establishing a Black Music Program in the early 1970s, inviting jazz musician Cecil Taylor to Antioch to teach and perform. Lack of funding led to its demise in 1973.
Mr. Ronsheim's classes were popular with students throughout his tenure at the college, and he bad a devoted following "like none I've ever seen," said archivist Scott Sanders, of Antiochiana. Students maintained contact with him long after they had graduated. He was an energetic and passionate teacher, and he was devoted to his students. He used music to teach cultural history and to spark questions. He believed his job as a teacher was to initiate the process of self-discovery among his students,
Antioch's mission mirrored his own philosophy about education: the goal was not to prepare people to do a specific thing, "but to confront that they exist."
"The force of his classroom persona was absolutely extraordinary," said former student Michael Eckert, who is now associate professor of music at the University of Iowa. Eckert counts himself as one of many students influenced by Mr. Ronsheim. "If I had to use one word to describe John, I would say he was a catalyst for a lot of people," said Eckert. "I was thinking of being a history major when I enrolled at Antioch. By the end of the second year, I had decided to become a music major. That was entirely because of John. Outside my family, he was in some ways the most important person in my formation."
Eckert was among the students who participated in the European Chorus Tours conceived and organized by Mr. Ronsheim. Students on the tours, which took place in 1973 and 1975, traveled through Europe singing 15th century music in various settings, from churches to wine cellars, and learning about the food, wine, art and culture in the process.
On the day of his death, Mr. Ronsheim had just completed the liner notes for a CD of the music performed by the Antioch Chorus during its tours of Europe.
Mr. Ronsheim rarely called attention to his own work. "Composition seems to have been a very personal thing for him," said Scott Sanders. Many of his compositions, which have been performed in the U.S. and Canada, were based on the poetry of 17th century metaphysical poet George Herbert. They include "Love" -- a piece for vibraphone and soprano that was given its first performance in 1988 at Symphony Space in New York City by the International Society of Contemporary Music. Other pieces include "Deniall", "Bitter-sweet", and "Easter-wings."
In addition to music, Mr. Ronsheim was passionate and knowledgeable about food and wine, and his influence prompted several of his students to specialize after graduation in the culinary arts field. Mr. Ronsheim's interest led him in the 1980s to develop a complete culinary arts curriculum for Antioch that included bachelor of arts and bachelor of fine arts degrees. The idea was for Antioch to become a regional center for teaching students how to grow and prepare nutritional and palatable food.
Antioch didn't buy the idea, though it was endorsed by chef Julia Child and others well known in the field of food and wine. Child later used Mr. Ronsheim's curriculum as a model to help found the American Institute of Wine and Food at the University of California, Santa Barbara.
Mr. Ronsheim was an avid walker and often walked twice a day in Glen Helen. He was well known for his intensity and for his loquaciousness. A casual greeting could easily lead to a two-hour conversation, with Mr. Ronsheim animatedly weaving the conversational threads from topic to topic.
He maintained his interest in music after retirement, working on compositions and keeping up with events in the music world by reading journals on a regular basis at the Antioch College library, where his long-time friend Joe Cali is head librarian. Mr. Ronsheim, said Cali, also liked to watch videotapes of Arturo Toscanini conducting the NBC Symphony. One time, he said, "he sat through a tape of Toscanini conducting Wagner and didn't make a sound. It was one of the few times since I've known him that he was quiet."
Quiet was not Mr. Ronsheim's style. He was opinionated and brash, a self-described "absolutist" and "purist" who did not believe in making compromises. "Most people are so bored in life, they do nothing but arrange furniture. I'm not one of those people," he said in a 1989 interview. "You have to give yourself up totally to things, if you're going to do them."
Mr. Ronsheim is survived by his wife, Eileen, whom he married in 1950; his daughter and son-in-law, Phoebe and Jonathan Patten, and their daughters, Cara and Rachel, all of Seattle, Washington; his brothers and sisters: Milton and Natalie Ronsheim, and Mary and Tom Ford, of Cadiz, Ohio; Robert and Pat Ronsheim, of Dover, New Jersey; and Sam and Marian, of Dansville, New York.
Graveside services will be held Saturday, November 8th, 2 p.m., in Cadiz; Ohio. In lieu of flowers, donations may be made to the Glen Helen Association.


Glen Helen Association
405 Corry Street
Yellow Spring, OH 4387
Also see Teaching in a Stream of Consciousness.